Roanoke Orvis Retail Store
Monday
11:00 AM - 6:00 PM
Tuesday
11:00 AM - 6:00 PM
Wednesday
11:00 AM - 6:00 PM
Thursday
11:00 AM - 6:00 PM
Friday
11:00 AM - 6:00 PM
Saturday
10:00 AM - 6:00 PM
Sunday
11:00 AM - 5:00 PM
Orvis Roanoke Upcoming Events
Store Personnel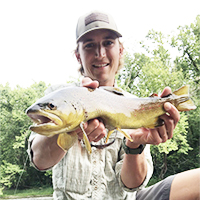 Fishing Manager: Brett Winchel
If there's a science behind fly fishing, Brett Winchel is the one to explain it. Nashville native and University of Tennessee grad, Brett studied Wildlife and Fisheries Science and received a minor in Forestry and Watershed, providing him with a solid platform from which to launch his fly-fishing career. Brett's love and knowledge of the sport runs deep; he started fly fishing almost a decade ago in Middle Tennessee, chasing bass and panfish in the local creeks and ponds. He progressed to trout streams like the Caney Fork and Elk River, but it wasn't until he moved to Knoxville for college that his fly-fishing experience really ramped up.  
It was there that he diversified his fishing know-how with a wide array of species and sharpened his skills on many of the technical tailwaters and trout streams within a day's drive of Knoxville. With his passion for fly fishing, fly tying, travel, and fisheries science (and his three-and-half-year stint as fisheries biologist) Brett is in prime position to provide you with the gear and guidance you need for all your Tennessee fly-fishing adventures.   
CAN'T MAKE IT TO A CLASS IN PERSON?
NO PROBLEM.
The Orvis Fly-Fishing Learning Center has hundreds of tutorials, videos, podcasts & articles available on-line, right now!