Leesburg Orvis Retail Store
Monday
11:00 AM - 6:00 PM
Tuesday
11:00 AM - 6:00 PM
Wednesday
11:00 AM - 6:00 PM
Thursday
11:00 AM - 6:00 PM
Friday
10:00 AM - 6:00 PM
Saturday
11:00 AM - 6:00 PM
Sunday
11:00 AM - 5:00 PM
Orvis Leesburg Upcoming Events
HOSTED TRIPS
El Pescador Lodge—Ambergris Cay—March 9-13, 2024, with store fishing manager Scott Allen.

This part of Belize is one of the best places to get a saltwater "Grand Slam": bonefish; permit; and tarpon in one day. The flats are extensive, and the lodge is well located so you don't have to travel far to be on the fish. Itinerary (4 nights, 3 days fishing); Included: o Assistance & coaching from a trip leader and El Pescador's fishing director o Guided fishing from flats boats (2 per boat is standard) o All meals at the lodge and boat lunches o Beverages, including local Belizean beer and rum at bar o Local sales and hotel taxes o Complementary use of all amenities (pools, WiFi, Kayaks, bikes, etc.) o Local air and transfers between Belize City and El Pescador Lodge
For more information, please contact Scott Allen at the store (703.777.5305).
Store Personnel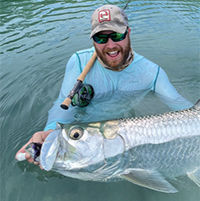 Store Manager: Jimmy Aliff
A lifelong hunter and avid angler, Jimmy Aliff is the quintessential outdoorsman. This Charlotte, North Carolina, native, and Orvis Associate since 2007, grew up chasing big game, upland birds, and rabbits, and has been swinging flies since 1998. His angling adventures have taken him up out west to Montana, Wyoming, Colorado, and up and down the east coast from Maryland to the Florida Keys, though he tells us Belize remains one of his favorite fishing destinations. When he's not on the floor of Orvis Leesburg, you'll find Jimmy cooking and preserving, gardening, landscaping, or refurbishing curios and relics, a curious hobby that, to us, sounds both challenging and extremely gratifying. But it's at Orvis where Jimmy's true passions shine through, as he tells us, "I enjoy helping people find solutions to their needs for travel and introducing newcomers to fly fishing and shooting sports." Jimmy looks forward to meeting new customers, welcoming back the regulars, and ensuring everyone gets the guidance and gear they need to create their most memorable outdoor adventures.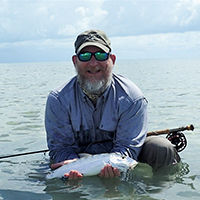 Fishing Manager: Scott Allen
United States Air Force veteran, world traveler, FFI-Certified Casting Instructor, and fly-rod builder in his spare time, Scott Allen relishes any opportunity to introduce people to fly fishing, to teach, and to talk about the lifestyle he loves. Though he's spent the greater part of the last two decades fishing the local waterways of Virginia and Maryland, Scott has hosted fishing trips to Montana and Belize, and has had the opportunity to fish all around the world, wherever his work, whether in the Air Force or as a private contractor for Northrop Grumman after his service, took him. But as he told us, "I will travel anywhere there is water." Scott looks forward to helping his customers at Orvis Leesburg, whether they're just starting out or have been fishing for years, with the gear and guidance they need to get out and enjoy the outdoors and make the most of every moment out on the water. 
CAN'T MAKE IT TO A CLASS IN PERSON?
NO PROBLEM.
The Orvis Fly-Fishing Learning Center has hundreds of tutorials, videos, podcasts & articles available on-line, right now!