Charlottesville Orvis Retail Store
Monday
11:00 AM - 6:00 PM
Tuesday
11:00 AM - 6:00 PM
Wednesday
11:00 AM - 6:00 PM
Thursday
11:00 AM - 6:00 PM
Friday
10:00 AM - 6:00 PM
Saturday
10:00 AM - 6:00 PM
Sunday
11:00 AM - 5:00 PM
Orvis Charlottesville Upcoming Events
Store Personnel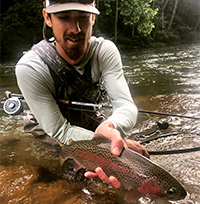 Store Manager: Jake Billmyer
Fly fishers catch many unintended things when out on the water. A bad cast can get hung up on a tree, a rock, the opposite bank, or even on the angler who's casting. But few anglers can say they've caught a duck on the fly. Jake Billmyer can. On his very first day of fly fishing, he found himself (or his uncle, to be precise), frantically trying to net a very unhappy duck in order to release it from the grasp of Jake's misplaced hook. The duck lived to fly another day. And Jake's been casting to (and catching) fish ever since.
A West Virginia native, Jake learned to tie flies at the age of 11 and consistently pushes himself to sharpen his angling skills. He tells us, "I find that I am most successful with tightline nymphing, fishing bugs for smallies, and streamer fishing. I am in the learning phases of micro Spey and saltwater fly fishing. I am forever learning new techniques and expanding my fly-tying supplies." It's this love of learning and constant drive to improve that makes Jake's role of Store Manager a perfect fit. Whether you're in the market for new gear, helpful tips, or the best places to fish in the area, Jake's here to help and point you in the right direction. And if you happen to be proficient in woodworking, another skill Jake's eager to learn, be sure to let him know next time you're in Orvis Charlottesville. He may have a few questions for you.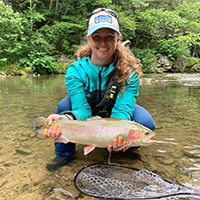 Fishing Manager: Bailey Dent
A Charlottesville native, Bailey has taken a circuitous route to make her way to Orvis—the horse show circuit to be precise. Bailey rode professionally in the hunter/jumper class, coaching clients and competing up and down the east coast for more than twenty years. She still gets plenty of saddle time when she can, but these days, you're more likely to catch her grasping a cork grip in lieu of leather reins, and casting for brookies or wild browns with her Jack Russell Terrier and loyal fishing partner, Stella. Bailey looks forward to seeing you at Orvis Charlottesville, where she'll give you intel on the latest gear and apparel, tell you about the best trout streams in the area, and make sure that your Virginia fly-fishing experience is the best it can be. 
CAN'T MAKE IT TO A CLASS IN PERSON?
NO PROBLEM.
The Orvis Fly-Fishing Learning Center has hundreds of tutorials, videos, podcasts & articles available on-line, right now!