Houston Orvis Retail Store
Monday
11:00 AM - 6:00 PM
Tuesday
11:00 AM - 6:00 PM
Wednesday
11:00 AM - 6:00 PM
Thursday
11:00 AM - 6:00 PM
Friday
10:00 AM - 6:00 PM
Saturday
10:00 AM - 6:00 PM
Sunday
11:00 AM - 5:00 PM
Orvis Houston Upcoming Events
Store Personnel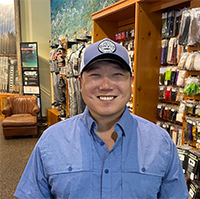 Store Manager: Kevin Lambert
Kevin Lambert knew from an early age that he wasn't like most kids: he preferred going fishing to playing video games. While at military training in Washington, Kevin became interested in fly fishing from a fellow soldier, who coincidentally happened to be a Colorado guide. He was hooked. Kevin has spent years chasing trout and smallmouth bass, primarily on the West Branch of the Ausable near Lake Placid in his home state of New York. Since moving to Texas, his fly-fishing strategy has shifted to warm- and saltwater techniques, with the pursuit becoming tarpon, permit, bonefish, and reds. Kevin's fished throughout the US and the Caribbean, but Belize is by far his favorite angling destination (though he hasn't yet achieved the elusive saltwater grand slam). And when Kevin's not swinging a fly rod, you'll find him swinging a golf club. A proud veteran of the US Army, Kevin's completed one tour in Afghanistan in the South Kandahar region as well as a rotation through South Korea. Here at Orvis Houston, you'll find him eager to offer guidance and know-how to anyone looking to make the most of their next outdoor excursion, whether they're headed for the water, the trail, or anywhere else adventure lies.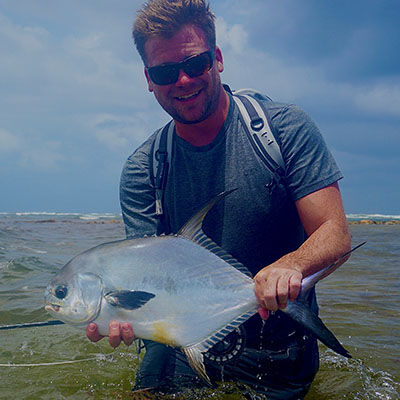 Fishing Manager: Gary Merriman  
Having a family member who owns a fly shop makes it almost a given you're going to grow up fly fishing. When that family member is your dad, well, we can remove the word 'almost' from that previous sentence. In Gary's words, "I have fly fished my entire life." Simple. Effective. To the point. It's a short statement that says a lot—and means a lot, especially if you're a customer of his. An Atlanta, Georgia, native, when Gary isn't talking about or teaching fly fishing, chances are he's fly fishing on his boat. Always in pursuit of fish, Gary has backpacked through Europe on an angling excursion; his favorite destination was Slovenia, where he chased trout. Though, to date, his other angling adventures pale in comparison to the time he caught a 30-pound permit off the beach in Tulum, Mexico; it's a fish story he's no doubt told many, but would no doubt enjoy telling you. Gary's love of the sport and passion for sharing knowledge with newbies and old-timers alike is what gets him excited about being at Orvis Houston. He looks forward to hooking you up with the gear and guidance you need to make your next angling adventure one to remember. 
CAN'T MAKE IT TO A CLASS IN PERSON?
NO PROBLEM.
The Orvis Fly-Fishing Learning Center has hundreds of tutorials, videos, podcasts & articles available on-line, right now!