Austin Orvis Retail Store
Monday
11:00 AM - 6:00 PM
Tuesday
11:00 AM - 6:00 PM
Wednesday
11:00 AM - 6:00 PM
Thursday
11:00 AM - 6:00 PM
Friday
10:00 AM - 6:00 PM
Saturday
10:00 AM - 6:00 PM
Sunday
11:00 AM - 5:00 PM
Orvis Austin Upcoming Events
Store Personnel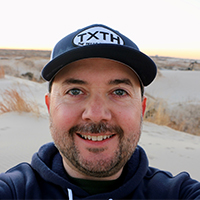 Store Manager: Daniel Laurel
If you've hiked anywhere in the Lone Star State, there's a good chance you found your trail on a website called The Texas Trailhead. Incidentally, that site was created by our own Daniel Laurel, who also happens to be our store manager at Orvis Austin. A Texas native, Daniel has called central Texas home for the past two decades and cherishes every moment he spends outside in the vast, open expanses of the state, his most favorite spots being the National Parks of West Texas, including Big Bend and the Guadalupe Mountains, site of the highest point in Texas. Back in the store, Daniel is focused on providing his customers with the gear and guidance they need to make the most of their outdoor adventures, whether they take place on the trails of Texas or beyond. And don't be surprised if, when you visit, you catch him grooving along to the in-store music track, for as Daniel himself puts it, "As a former club kid, I love a good dance song. You can catch me bopping around anywhere I hear a good beat."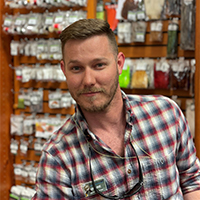 Fishing Manager: Shane Dennis
Fishing's always been a large part of Shane's life; he started at the age of five with his grandfather, transitioning from traditional bait to lures and finally to flies by the time he was just 10 years old. From that point, it was game on with Shane spending much of his youth stalking redfish and speckled trout along the hard sand flats and grass beds of the Choctawhatchee Bay in his home state of Florida. An Eagle Scout and Marine Infantry veteran, Shane is a relative newcomer to Texas but not to Orvis, as he spent four years working at our Sandestin, Florida, location. Always up for adventure, Shane's often out and about on our local waters, learning their nuances, and going after Guadalupe bass and Rio Grande cichlids, or hard at work at his fly-tying desk creating his next masterpiece. But his new favorite angling pursuit is chasing carp on the fly—as he told us, "It is a fond reminder of chasing redfish back home, but with an added level of difficulty." Shane's vast experience and eagerness to learn puts him in the perfect position to set up seasoned and new anglers alike with the gear and guidance they need to maximize their effectiveness and enjoyment wherever and whenever they're on the water. 
CAN'T MAKE IT TO A CLASS IN PERSON?
NO PROBLEM.
The Orvis Fly-Fishing Learning Center has hundreds of tutorials, videos, podcasts & articles available on-line, right now!