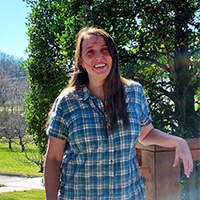 Store Manager: Kelly Maynard-Bales 
Traveler, movie buff, Girl Scout Leader, crocheter. If variety is indeed the spice of life, Kelly Maynard-Bales is doing it right. A Gatlinburg, Tennessee, native, Kelly's diverse background no doubt plays a large part in helping shape her role as manager of Orvis Sevierville. As a traveler, she's visited much of North America and Europe, with France holding a special place in her heart. As a movie buff, she's all about the film festivals; even taking in 49 films in 10 days at the Toronto Film Festival one year—a feat that, while no doubt entertaining, she doesn't recommend for the non-initiated. Crocheting is also on Kelly's list of loves; it's a hobby that helps relieve stress while creating something wonderful. And as a Girl Scout Leader, Kelly effectively blends her love of the outdoors, her passion for people, and an inherent drive to lead a group. Were we to try, we wouldn't be able to choose one single attribute that makes Kelly the ideal individual to lead Orvis Sevierville, and that's entirely the point.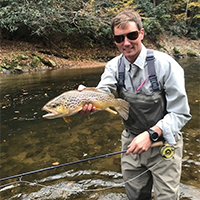 Fishing Manager: Captain Jake Mullins
Chasing grizzlies, wrangling float planes, and putting anglers onto the fish of a lifetime. It was all in a day's work for Capt. Jake Mullins during the summers he spent working at Orvis-Endorsed Tikchik Narrows Lodge in Alaska. An experience that, to him, felt like "It was like going back in time and living in the Wild West."
A Knoxville native and fly fisher since the age of 12, Jake's a born outdoorsman and loves anything to do with the natural world, whether on land or at sea. Incidentally, as much as he's an avid angler, he's also an accomplished wingshooter, and was a competitive trap shooter throughout high school and into college. These days, you'll find Jake, (a pilot and a captain), manning the controls of the Orvis Sevierville Fishing Department. And though he may not be chasing bears and flying Beavers, he's still helping customers get exactly what they need to get onto the fish of a lifetime.