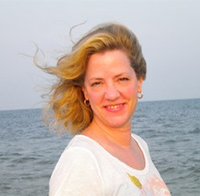 Store Manager: Heidi Eckert
With more than 30 years of retail experience behind her, Heidi Eckert feels right at home at the helm of Orvis Nashville. In fact, she views the folks she interacts with on a day-to-day basis as family rather than colleagues or customers. An Alabama native and a University of Alabama graduate, Heidi maintains strong ties to her home state and her alma mater's football team (Roll Tide Roll) and gets back there whenever she can, whether it's for the beaches of Dauphin Island or just to fish off the Alabama coast and the waters of Mobile Bay.
But fishing's not all Heidi can put on her list of skills. Getting out on Nashville's parks and greenways, cooking, and reading keep Heidi plenty busy when she's not at the store. And, as an accomplished seamstress, she is always creating something new. But you'll need to glide back in time to understand why Heidi crosses the floor of Orvis Nashville to greet customers or chat with fellow associates with such precision and grace: Heidi's also a former figure skater, and a proud mom of one, too. And as you probably know, costumes are a big part of the sport. Luckily, Heidi's sewing skills were put to good use, as she made all her daughter's skating costumes herself.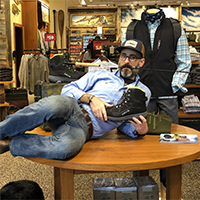 Fishing Manager: Keith Horton
When your dad's a tournament bass fisherman, there's a pretty good chance you're going to grow up fishing. For Keith Horton, that started at age five. An angler for over 44 years, Keith has fished in South Louisiana for redfish, Maui for giant trevally and bonefish, Cabo San Lucas for marlin, the Dominican Republic for mahi-mahi, and a myriad of other amazing locations. But it wasn't until 2001 that he picked up a fly rod and instantly gravitated towards the sport. Sharing his passion by teaching others the nuances of fly fishing is what drives Keith every day at Orvis Nashville. He looks forward to helping you on your fly-fishing journey with the latest gear, local intel, and the guidance you need to make the most of every day out on the water.