Memphis Orvis Retail Store
Monday
11:00 AM - 6:00 PM
Tuesday
11:00 AM - 6:00 PM
Wednesday
11:00 AM - 6:00 PM
Thursday
11:00 AM - 6:00 PM
Friday
11:00 AM - 6:00 PM
Saturday
10:00 AM - 6:00 PM
Sunday
11:00 AM - 5:00 PM
Orvis Memphis Upcoming Events
Store Personnel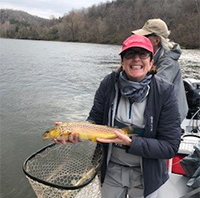 Store Manager: Lesley Allen
Multitasking takes time to master. However, some folks are just naturally good at it. Take Lesley, for example. An angler since she was a youngster, she caught her personal best fish (a 27-inch cutthroat trout) at a moment when things weren't going quite as she planned. Fishing on a blisteringly cold day, she discovered her line was tangled. So, she let it drift, took off her gloves, addressed the problem at hand, adjusted her hat, and, to her surprise, when she resumed fishing, her line immediately went tight, and she landed the fish. 
It's that innate ability to solve one problem quickly while being ready to take on the next one that makes Lesley perfectly positioned at the helm of Orvis Memphis. Working with others has been a central theme throughout Lesley's career. With almost 2 decades at the YMCA running summer day camps and after-school programs, to say that Lesley has premium people skills would be an understatement. Outdoor lover, angler, occasional wingshooter, and professional multitasker, Lesley Allen is always up for a challenge.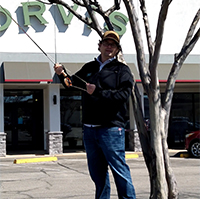 Fishing Manager: Justin Allsop
Most folks start their fly-tying hobby with proper materials and a fly-tying vise. Justin Allsopp approached things a little differently. Inspiration struck Justin at the tender age of six, after watching a fly-tying demonstration on TV. He sourced a large gold hook from his dad's tackle box, a little thread from the sewing kit, and then snipped a few strands of fur from Mom's coat. He went to work and assembled his masterpiece using his dad's workbench vise. The results were far from textbook, but the message that he was destined to be an angler (and fly tyer) was received; his parents presented him with a bona fide fly-tying kit that Christmas.
Justin has pursued his fly-fishing passion for more than 30 years, fishing in New Jersey, Pennsylvania, the Catskills, and various locations up and down the eastern seaboard. He's also worked in the field of special education advocacy for 20 years, helping families advocate for their children's needs. But through it all, his love of fly fishing never subsided, and he ultimately made his way to Orvis to manage the Fishing Department of the Memphis store. Justin looks forward to meeting anglers young and old, guiding them to the gear and intel they need, and helping them ensure success on the water. And if fly-tying materials are what you're looking for, he can most certainly point you in the right direction. 
CAN'T MAKE IT TO A CLASS IN PERSON?
NO PROBLEM.
The Orvis Fly-Fishing Learning Center has hundreds of tutorials, videos, podcasts & articles available on-line, right now!