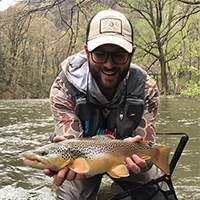 Store Manager: Dan Byrnes
It sounds like an angler's dream: Five months on the road chasing hatches through Michigan, Montana, and Oregon. But it was precisely what Dan Byrnes did upon graduating college. Granted, his accommodations during the journey (a '98 Chevy Blazer) may have been a bit cramped, but we would chalk that up as a minor inconvenience. Fly fishing's always been high on Dan's list of priorities. An angler for more than two decades, this Pittsburgh, PA transplant still pines for his home waters of north central Pennsylvania and makes it a point to get back up there whenever he has the chance.  
On the floor of Orvis Greenville, however, Dan makes it a point to meet as many customers as possible. But don't be discouraged if you don't see him right away. He'll catch you eventually, much like his experience on the Little Juniata, where he told us this incredible fish tale, "I was fishing the Little Juniata during Sulphur season and hooked a big brown trout that broke me off. I came back to the same spot the next weekend and caught and landed that fish with my fly still in its jaw!" Being in the right place at the right time. For some, it's luck. For Dan, it's all in a day's work. 

Fishing Manager: Mark White
Mark started fly fishing in Southwest Montana while finishing his geology degree from Sewanee. After college, he began a career in environmental consulting that allowed him to fish all over the country while on environmental cleanup projects. While Mark has fished in many great places, his main focus has always been centered around trout in the smaller creeks and streams remotely located along the spine of the Appalachian Mountains of the Carolinas, with the occasional trip to local farm ponds for bass and pan fish, while teaching his two boys the wonders of the outdoors and fly fishing. While fishing, he also enjoys wild flower identification, ornithology, entomology, and dendrology, as well as upland and wetland bird hunting. Come in to talk to Mark about strategies and tactics for success on our local waters.