Cleveland Orvis Retail Store
Monday
11:00 AM - 6:00 PM
Tuesday
11:00 AM - 6:00 PM
Wednesday
11:00 AM - 6:00 PM
Thursday
11:00 AM - 6:00 PM
Friday
11:00 AM - 6:00 PM
Saturday
10:00 AM - 6:00 PM
Sunday
11:00 AM - 5:00 PM
Orvis Cleveland Upcoming Events
Store Personnel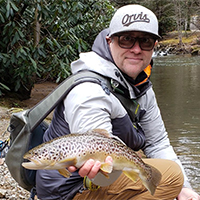 Store Manager: Lee DeAngelo
For a guy who got his start in the outdoor retail world managing a snowboard shop in the White Mountains of Arizona, Lee DeAngelo has certainly come a long way. For that snowboard shop's owner, who turned the snowboard shop into a fly shop during the off season, was the one who taught Lee how to fly fish. In the 27 years since he's been fly fishing, Lee has fished in Arizona, New Mexico, Colorado, Montana, and Wyoming. And since moving back to Northeastern Ohio to run the show at Orvis Cleveland, Lee has worked to hone his skills further by chasing Great Lakes steelhead with a two-handed rod. Saltwater fishing came next, and quickly became one of his favorite types of fly fishing, with trips to Turks and Caicos, the Bahamas, and the Florida Keys only serving to solidify his love of stalking elusive bonefish, permit, and tarpon on the flats. Sharing his knowledge of the sport with his team and his customers is what gives Lee the greatest satisfaction, though, and for those who know him, or will soon meet him, they will attest that his passion for all things outdoors is as authentic as it gets.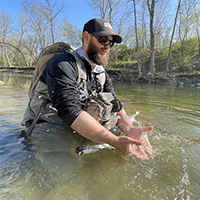 Fishing Manager: Scott Travagliante
Fly fishing has always been a big part of Scott Travagliante's life. Growing up in Cuyahoga Falls, Ohio, Scott fished the Cuyahoga River for steelhead, smallmouth bass, and carp, and visited his family's cabin in the Allegheny National Forest to chase native brook trout. But getting a Colorado Grand Slam within the first five hours of his visit has proven to be the highlight of his fishing adventures so far. Despite Scott's love of fish, he doesn't actually eat fish. This is a good thing, considering most fly fishing is catch-and-release anyway. On the floor of Orvis Cleveland, Scott's all business. It's a far cry from his past job selling cars and running a used-car dealership, but in the end, customer service and making lasting connections is what it's all about. As he tells us, "There's nothing better than to be able to go to work and teach and talk about fly fishing." We couldn't agree more.   
CAN'T MAKE IT TO A CLASS IN PERSON?
NO PROBLEM.
The Orvis Fly-Fishing Learning Center has hundreds of tutorials, videos, podcasts & articles available on-line, right now!