Westlake Orvis Retail Store
Monday
11:00 AM - 6:00 PM
Tuesday
11:00 AM - 6:00 PM
Wednesday
11:00 AM - 6:00 PM
Thursday
11:00 AM - 6:00 PM
Friday
11:00 AM - 6:00 PM
Saturday
10:00 AM - 6:00 PM
Sunday
11:00 AM - 5:00 PM
Orvis Westlake Upcoming Events
Store Personnel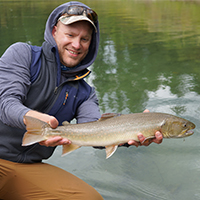 Store Manager: John Brochue
When Orvis Westlake opened its doors, John Brochue was there. He worked as a part-time Associate and then moved on to Orvis Westmere to be their Fishing Manager. In 2019, John returned to Westlake, and he's been with us ever since. A native of Western Michigan, John's called the Buckeye State home for more than three decades and is an enthusiastic advocate of fly fishing in the Cleveland area. As he told us, "We have lake-run trout and smallmouth bass in our rivers, numerous freshwater fish through the great lakes, and it's only a half-day drive to the fabled waters of Central Pennsylvania or Northern Michigan." An avid angler, John is lead instructor for the Ohio Orvis Fly-Fishing Schools at Rockwell Springs Trout Club, Board Member for Ohio Central Basin Steelheaders, and a presenter and featured speaker for numerous local fishing clubs. John looks forward to meeting new customers, returning customers, adventurists, anglers, and anyone looking for proven gear, apparel, and the know-how they need to make their outdoor experiences the best they can be.   
CAN'T MAKE IT TO A CLASS IN PERSON?
NO PROBLEM.
The Orvis Fly-Fishing Learning Center has hundreds of tutorials, videos, podcasts & articles available on-line, right now!