Kenwood Orvis Retail Store
Monday
11:00 AM - 6:00 PM
Tuesday
11:00 AM - 6:00 PM
Wednesday
11:00 AM - 6:00 PM
Thursday
11:00 AM - 6:00 PM
Friday
11:00 AM - 6:00 PM
Saturday
10:00 AM - 6:00 PM
Sunday
11:00 AM - 5:00 PM
Orvis Kenwood Upcoming Events
Store Personnel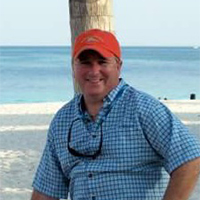 Store Manager: Rich Washburn
To say that Rich Washburn has come full circle would be an apt description, for it was 35 years ago that he began working for Orvis at an affiliate retailer in St. Louis, Missouri. Between that stint, and his current stint managing Orvis Kenwood, Rich worked in the home furnishing and retail liquidation industries. A St. Louis native, Rich has been fishing since he was five years old and also enjoys waterfowl hunting. But we figured it was best to let Rich tell you in his words: "I have been fortunate to have chased trout throughout North America; steelhead in the tributaries of the Great Lakes; and bonefish, tarpon, permit, redfish, and snook in the Caribbean and Florida. I have hunted quail in Missouri and Illinois; pheasant in Illinois, Minnesota and South Dakota; and hunted waterfowl along the Mississippi Flyway from Wisconsin/Minnesota down though Missouri and into Arkansas." To add to his list, Rich has also achieved the coveted saltwater grand slam (bonefish/tarpon/permit) out of Casa Blanca Lodge on Acsencion Bay in Mexico. Angler, hunter, amateur photographer, and motorsports enthusiast, Rich has even been driven at speed, around a racetrack in a two-seat Indy car by former race driver Gabby Chaves—it's just one more example of Rich's full-circle experience.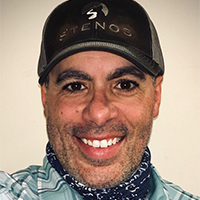 Fishing Manager: Manuel Gibson
Having a part-time fishing guide as your Fishing Manager would be considered an advantage. Having a full-time fly-fishing guide as your Fishing Manager would be a win in our book. And that's just what we have with Manuel Gibson. For more than two-and-a-half decades, Manuel's been involved in fly fishing as a guide and an instructor. He's guided in Indiana, Ohio, and Kentucky as well as in the Great Lakes region for salmon, steelhead, and monster browns. He even guided and taught on the famed Flathead River at an Orvis-Endorsed outfitter in Montana.
This extensive experience not only puts Manuel in the perfect position to offer expert guidance on the best gear, it also provides him with the background knowledge he needs to give you the best advice on fishing locally or afar. So, if product info is what you're after, Manuel's your guy. And if you're in need of fishing tips and advice, he's also your guy. Bottom line: with Manuel at the helm of the Orvis Kenwood Fishing Department, every angler is in capable hands. 
CAN'T MAKE IT TO A CLASS IN PERSON?
NO PROBLEM.
The Orvis Fly-Fishing Learning Center has hundreds of tutorials, videos, podcasts & articles available on-line, right now!