Buffalo Orvis Retail Store
Monday
11:00 AM - 6:00 PM
Tuesday
11:00 AM - 6:00 PM
Wednesday
11:00 AM - 6:00 PM
Thursday
11:00 AM - 6:00 PM
Friday
10:00 AM - 6:00 PM
Saturday
10:00 AM - 6:00 PM
Sunday
11:00 AM - 5:00 PM
Orvis Buffalo Upcoming Events
Store Personnel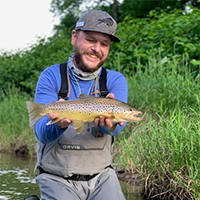 Store Manager: Adam Schroeder
A fly fisher since the age of ten, Adam Schroeder grew up fishing Spring Creek in Caledonia, New York, which is, incidentally, home to the country's very first fish hatchery. Over the years, Adam has fished the lower Niagara for steelhead and salmon, the upper Niagara for bass, Montana for trout, Louisiana for redfish, and Belize for bonefish. But it's his native state of New York, in the Catskills on the West Branch of the Delaware, where he feels most at home. As he told us, "It is the birthplace of fly fishing in the East. As soon as I turn off Rt. 17 toward the cabin we rent, I always know I am in for a memorable experience." But there's another side to the store manager of Orvis Buffalo, Adam is also an accomplished musician, and has played guitar and drums in bands since he was a teenager. He even recorded an album when he was in a band called Innocent Bystanders—and three of their songs made it on to the soundtrack of the 2009 movie "What Goes Up" featuring Hilary Duff (among others).  You'll find those songs listed right after "Hero" by David Bowie. So, the next time you're in Orvis Buffalo, be sure to seek out Adam; he'll set you up with the best apparel and gear for getting out there and may even have some musical suggestions to add to your playlist before you head out on your next adventure.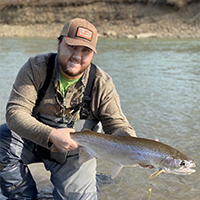 Fishing Manager: Adam Slavinski
Adam Slavinski started fly fishing before he could walk, talk, or even hold a fly rod. His first excursions to the river were in a backpack on his dad's shoulders, who, as luck would have it, is a fly-fishing guide. Now, having a dad who's a fishing guide is certainly no guarantee that you'll become one as well, but in Adam's case, it worked out that way. Buffalo born and raised (and a die-hard Bills and Sabres fan), Adam's been teaching fly fishing since he was sixteen years old. His self-professed "obsession" with fly fishing has taken him to the Gaspe Peninsula in Quebec, northern British Columbia, and even Norway in pursuit of fish. At Orvis Buffalo, you'll find Adam leading our popular (and free) Fly Fishing 101 classes. He's also your go-to guy if you're looking to find out what's hatching when, what's feeding on what, and which gear and flies you need to catch whatever it is you're fishing for. 
CAN'T MAKE IT TO A CLASS IN PERSON?
NO PROBLEM.
The Orvis Fly-Fishing Learning Center has hundreds of tutorials, videos, podcasts & articles available on-line, right now!