Rochester Orvis Retail Store
Monday
11:00 AM - 6:00 PM
Tuesday
11:00 AM - 6:00 PM
Wednesday
11:00 AM - 6:00 PM
Thursday
11:00 AM - 6:00 PM
Friday
10:00 AM - 6:00 PM
Saturday
10:00 AM - 6:00 PM
Sunday
11:00 AM - 5:00 PM
Orvis Rochester Upcoming Events
Store Personnel
Store Manager: Jim Wallace
Avid outdoorsman, lifelong angler, and seasoned traveler, Jim Wallace is always up for adventure. Though he grew up in Baton Rouge, Louisiana, Jim's lived in New Mexico, Colorado, New Hampshire, Maine, and New York, and has visited 41 of our 50 states. He's even had the opportunity to take a group of Orvis customers to the Orvis-Endorsed El Pescador Lodge in Belize, and though the renowned saltwater grand slam eluded him on that trip, he vows to return to settle the score. An outdoor retail veteran, Jim's been at Orvis Rochester since it opened in 2013 and, in that time, has proven himself as the go-to guy when things need getting done—or taught, as he has also been quite instrumental as an instructor for our ever-popular (and free) Fly Fishing 101 and 201 classes. It's no surprise, though, as Jim's been a fly fisher for over 30 years. Jim always looks forward to meeting new faces and welcoming back the regulars and is always eager to help his customers with what they need, whether it's apparel, gear, or guidance, so they can make the most of their outdoor adventures.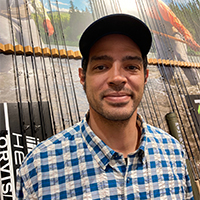 Fishing Manager: Brandon Hollins
Many of us have driven across the United States. But unless you're a long-haul trucker, or in our case, Brandon Hollins, you probably haven't done it seven times. But Brandon has, and it was all in the pursuit of trout. That says something about Brandon. Not only does he like to drive, but he has the drive to get out where the fish are. It's a quality that has taken him to some notable places, including Yellowstone and his favorite spot to catch Lahonton cutthroat trout, Pyramid Lake in Nevada. It also took him all the way to Nepal with the hopes of landing a Golden Mahseer on the fly. Despite spending a month there, the elusive Mahseer he ultimately hooked was never landed. But the experience alone was one he will treasure forever as he told us, "I will never forget how fun it was to even have a chance." Brandon's drive and passion make him perfectly suited to be the fishing manager at Orvis Rochester. His enthusiasm for and knowledge of the sport of fly fishing will inspire both seasoned veterans and newbies alike to make the most of their next angling adventure, wherever it may be. 
CAN'T MAKE IT TO A CLASS IN PERSON?
NO PROBLEM.
The Orvis Fly-Fishing Learning Center has hundreds of tutorials, videos, podcasts & articles available on-line, right now!