Fifth Avenue Orvis Retail Store
Monday
11:00 AM - 6:00 PM
Tuesday
11:00 AM - 6:00 PM
Wednesday
11:00 AM - 6:00 PM
Thursday
11:00 AM - 6:00 PM
Friday
11:00 AM - 6:00 PM
Saturday
10:00 AM - 6:00 PM
Sunday
11:00 AM - 5:00 PM
Orvis Fifth Avenue Upcoming Events
Additional Sporting Resources
Store Personnel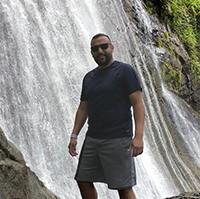 Store Manager: Doug Lopez
When you first meet Doug Lopez, you may think you've seen him before. You might wonder if perhaps it was on the streets of midtown, maybe at a restaurant, or perhaps it was on the subway. But then you'll realize that it was none of those locations ... it was at home—for it was none other than Doug himself who graced the cover of the Orvis Fishing catalog in 2021. Born in El Salvador, Doug was raised in Astoria, Queens, New York, has been in retail management since college, and has, over the years, worked for some of the biggest names in the retail world. Growing up, Doug fished saltwater locally for snappers, stripers, and blues; and since joining Orvis, he's had the opportunity to fly fish and hunt in Montana, shoot sporting clays at the Orvis Shooting Grounds in Sandanona, and even travel to Cuba twice to fish their legendary flats. When not out and about, you'll find Doug's courtside with his daughters, where he's president of the local recreational basketball league. We could end here but we would be remiss if we didn't mention the fact that Doug is also a devoted Black Sabbath fan and even traveled to Manchester, England, to see them on their final tour. It's a story he'd no doubt love to recount the next time you see him at Orvis New York.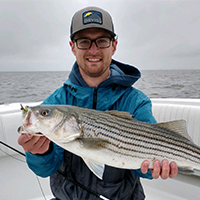 Fishing Manager: Joe Angiello
Here's what Fishing Manager Joe Angiello told us: "I have always been fascinated with nature and have been drawn to it since I was very young. After I graduated from Somers High School, I began working in a small tackle shop in upstate New York, where I continued to learn more about fishing and hunting. After a couple of years at the shop, a close friend and I planned a cross-country road trip in hopes of learning how to fly fish in the American West. We set out on July 7th, 2014, with nothing but some camping gear, a road map, and a couple of cheap fly rods. On this five-week adventure, we fished everywhere from Northern Wyoming right up to the Canadian border on backcountry rivers in Montana's Glacier National Park. We fished every day that month and spent time on the Gallatin, Lamar, Madison, Flat Head, Beaverhead, Snake, North Fork Black Foot, and countless other beautiful rivers. It was from this trip that I developed a passion for fly fishing and the places it had taken me. Since then, I have enjoyed fishing and hunting the public land in Westchester and the Catskills. Before taking over as the Fishing Manager in New York City I spent three years at Orvis Yonkers. In my time with Orvis, I have made many connections with both customers and co-workers and really enjoy being able to relate to people of every background through a shared passion for the outdoors." 
CAN'T MAKE IT TO A CLASS IN PERSON?
NO PROBLEM.
The Orvis Fly-Fishing Learning Center has hundreds of tutorials, videos, podcasts & articles available on-line, right now!