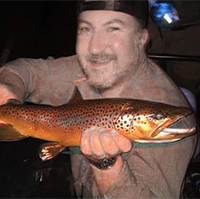 Store Manager: Jason Davis
A self-professed "Michigan guy," Jason Davis has always called The Great Lakes State home. Growing up in a small town just an hour north of Royal Oak, Jason learned to fish at an early age with lots of help from his mom. Fly fishing was the natural progression, and he honed his skills on a small trout stream near his grandparents' home in northern Michigan. Since those early days, Jason's fished "almost every river in the lower half of Michigan;" he even wrote and published the only Angler's Guide to Paint Creek, southeast Michigan's only coldwater trout stream, in 2015. Despite his deep love of angling, drawing and painting were his original passions; he even majored in art at the University of Michigan with plans to someday teach high-school art. And though that occupation wasn't realized, Jason soon discovered that his passion for fly fishing paired with his love of teaching was a perfect fit. These days, when Jason isn't walking the floor of Orvis Royal Oak meeting new customers and welcoming back friendly faces, he's most likely out fishing local waters or tying his favorite patterns at home. Chances are he won't be too far away because, as he tells us, "I'm not one to travel far when there is so much to enjoy here in Michigan."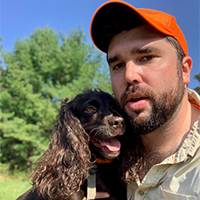 Fishing Manager: James P. Spica Jr.
Angler, hunter, writer, photographer, and culinary aficionado, James is somewhat of a modern Rennaissance man. Born and raised in Michigan, he only lived out-of-state for a couple of years during school and, in his words, "came back to Michigan as soon as I possibly could." An angler since the age of five and a fly fisher for more than 15 years, James has effectively combined his love of the sport with his master's degree in publishing and writing. In addition to his work at Orvis, James is an Editor-at-Large with Tail Fly Fishing Magazine. He writes and photographs for Tail as well as for a variety of other fly-fishing and wingshooting magazines. His work has been featured in Tail, Covey Rise, American Fly Fishing, The FlyFish Journal, American Angler, and others. If he's not out on the floor of Orvis Royal Oak, fly fishing, hunting, writing, or shooting photos, James can often be found in the kitchen; a bit of professional culinary training has helped him perfect his skills at preparing dishes using wild game or foraged ingredients such as wild mushrooms and leeks. James always looks forward to meeting new and seasoned anglers alike and helping them with the gear and guidance they need to pursue their passions the way he pursues his.