Store Manager: Alex Beane
Alex started fly fishing at the age of 11 in Upstate New York and never looked back. He spent nearly a decade managing and guiding for Breckenridge Outfitter in Colorado. Alex spent a couple of summers guiding in Alaska for Bristol Bay Lodge; he has chased steelhead on the Olympic Peninsula and spent four years managing a fly shop in Boca Grand, FL— making for a well-rounded Retail Fishing Manager. After all of the exotic destination trips Alex and his family have been on, they have landed in Baton Rouge, LA. These days, Alex enjoys spending time with his wife and two boys and chasing redfish in south Louisiana.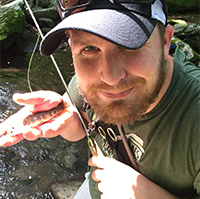 Fishing Manager: Matt Brooks
If you ever needed living proof that our Fly Fishing 101 program can turn out expert anglers, look no further than Matt Brooks. A former electrician, Matt took our popular free course 10 years ago and, well, the rest is history. A native of Baton Rouge, Matt's been fishing for as long as he can remember, starting out spin fishing for bass with his grandfather, but it was that fateful FF101 class that got him hooked on fly fishing. And that's a good thing, for when you're passionate about something, it shows, as Matt enjoys teaching the finer points of the sport as much as he loves just talking about it. If you're looking for fishing tips, gear recommendations, or the best places to wet a line in the Baton Rouge area, Matt's your resource. And if you really want to get his attention when you're in the store, bring along a some banana-flavored Laffy Taffy and he'll be sure to head in your direction.