Atlanta Orvis Retail Store
Monday
11:00 AM - 6:00 PM
Tuesday
11:00 AM - 6:00 PM
Wednesday
11:00 AM - 6:00 PM
Thursday
11:00 AM - 6:00 PM
Friday
10:00 AM - 6:00 PM
Saturday
10:00 AM - 6:00 PM
Sunday
11:00 AM - 5:00 PM
Orvis Atlanta Upcoming Events
Store Personnel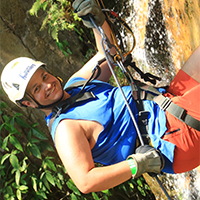 Store Manager: Josh Breedlove
A Mississippi native and veteran of the retail world, Josh Breedlove has worked for a variety of well-known brands before we were lucky enough to bring him on at Orvis Atlanta. His love of travel has taken him to the vast, desert beauty of Palm Springs, California, to the forests of Puerto Vallarta, where, after a boat ride, pickup-truck journey, and mule trek up a mountain, he proceeded to zipline back down via a series of no less than twelve "ridiculous zipline runs." Handling that type of excitement, no doubt makes working the floor of Orvis Atlanta feel like a proverbial walk in the park. Josh's attention to detail, friendly demeanor, and easygoing attitude allows him to make solid and lasting relationships with team members and customers alike. When he's not in the store, there's a good chance he'll be in the field (but we're not talking wingshooting here). Josh also plays in a recreational softball league, where he competes in regional and national tournaments.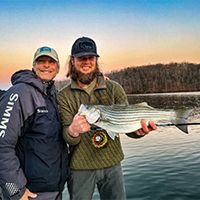 Fishing Manager: Devin Lancaster
Devin Lancaster remembers his first fly rod well. It was an Orvis 7'6" 4-weight Far-and-Fine rod with a Battenkill click-and-pawl reel; he received it when he was all but seven years old. While a faraway memory for sure, it was indeed a fine one as just a year later, he reeled in his first fish, a 12" wild brown he caught on the Provo River in Utah with his dad proudly at his side. Fishing has always been a big part of Devin's life, taking him to the Everglades to chase redfish snook, and jack crevalle as well as to the Yellowstone River in southwest Montana; he even worked as professional guide, where he led trips into the North Georgia mountains in search of native brook trout. But Devin's favorite adventures often involve a little hiking and a bit of bushwacking to get to a seldom-fished stretch of stream to test his luck against the fish there. Despite a brief stint as a private investigator, Devin's remained firmly ensconced in the outdoor industry all his life. His position at Orvis Atlanta gives him the opportunity to provide greater numbers of anglers with the gear and guidance they need to realize their fly-fishing dreams. 
CAN'T MAKE IT TO A CLASS IN PERSON?
NO PROBLEM.
The Orvis Fly-Fishing Learning Center has hundreds of tutorials, videos, podcasts & articles available on-line, right now!