Alpharetta Orvis Retail Store
Monday
11:00 AM - 6:00 PM
Tuesday
11:00 AM - 6:00 PM
Wednesday
11:00 AM - 6:00 PM
Thursday
11:00 AM - 6:00 PM
Friday
10:00 AM - 6:00 PM
Saturday
10:00 AM - 6:00 PM
Sunday
11:00 AM - 5:00 PM
Orvis Alpharetta Upcoming Events
Store Personnel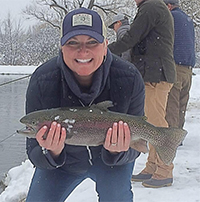 Store Manager: Tracy Zimmerman
Most fifth graders wouldn't think to write a letter to the Pope asking him to pray for an older brother, who, at the time, was deployed in the Iraq War. And most fifth graders would probably call it quits after said letter was returned to sender due to lack of postage. But Tracy Zimmerman wasn't like most fifth graders and, three months after re-sending her letter (this time with ample postage) she received a handwritten note from the Pope himself saying that he would indeed pray for her brother.
Persistence clearly pays off. For over a decade, Tracy has called Orvis and the Atlanta metro-area home. Previously the store manager at our Atlanta location, this Buffalo, New York, native has fallen in love with all that our region has to offer. An avid traveler (she loves cruises) and athlete (she currently competes on two different tennis teams), Tracy's varied interests, passions, and yes, persistence for first-rate customer service make her perfectly suited for the fast-paced environment of Orvis Alpharetta. Tracy looks forward to meeting new and returning customers at the store, sharing stories, and guiding them along as they gear up for adventure. 
CAN'T MAKE IT TO A CLASS IN PERSON?
NO PROBLEM.
The Orvis Fly-Fishing Learning Center has hundreds of tutorials, videos, podcasts & articles available on-line, right now!