Cherry Creek Orvis Retail Store
Monday
11:00 AM - 6:00 PM
Tuesday
11:00 AM - 6:00 PM
Wednesday
11:00 AM - 6:00 PM
Thursday
11:00 AM - 6:00 PM
Friday
10:00 AM - 6:00 PM
Saturday
10:00 AM - 6:00 PM
Sunday
11:00 AM - 5:00 PM
Orvis Cherry Creek Upcoming Events
Store Personnel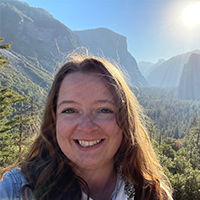 Store Manager: Sarah Staib
An Orvis veteran and a native Vermonter, Sarah Staib spent over a decade working at our Flagship location in Manchester Vermont. And now that she calls Colorful Colorado home, Sarah continues her quest to have, as she often says, "the best job ever—I get to talk fishing and pet dogs all day!" While there's no doubt there's no shortage of fish tales and wagging tails on the floors of Orvis Cherry Creek, Sarah mostly enjoys helping others on their quest to enjoy the outdoors as much as she does. With over a decade of angling experience, combined with her extensive knowledge of the Orvis brand, Sarah's the ultimate resource for anyone looking to embark on their next adventure. She's ready with the gear recommendations and the guidance you need to make the most of your next outdoor excursion, whether it's to the water, the mountains, or anywhere in between.
Fishing Manager: Emily Dobrzyn
From an early age, it was clear that Emily was destined to become an angler. Her first fly rod, at age 12, was an Orvis rod; she learned to cast (and catch her first trout) simply by studying her father as he cast. At just 14, she was already a 'regular' at Orvis Pasadena; at 17, she became their casting instructor. And at 22, after graduating with a degree in environmental studies with a minor in sustainability from Boise State University, she returned to her home state of Colorado and to Orvis Cherry Creek, where she accepted the role of Fishing Manager. A quick note about Boise: Despite missing the occasional class or lecture due to excellent fishing on the local rivers (and having PowerPoints sent to her by her supportive professors) Emily still graduated with high honors—now that's multitasking at its best. Although Emily has lived in Las Vegas, Dubai, Osaka, Los Angeles, and Orlando, she holds Boise fully responsible for turning her into the angler she is today, as she told us, "Traveling 15 minutes from my apartment on foot to catch trout was too good to be true." Angler, instructor, (and animal lover), Emily's love for fly fishing and the outdoors began at Orvis; and her vast knowledge of and enthusiasm for the sport will undoubtedly inspire you on all your angling adventures.
CAN'T MAKE IT TO A CLASS IN PERSON?
NO PROBLEM.
The Orvis Fly-Fishing Learning Center has hundreds of tutorials, videos, podcasts & articles available on-line, right now!