Pasadena Orvis Retail Store
Monday
11:00 AM - 6:00 PM
Tuesday
11:00 AM - 6:00 PM
Wednesday
11:00 AM - 6:00 PM
Thursday
11:00 AM - 6:00 PM
Friday
10:00 AM - 6:00 PM
Saturday
10:00 AM - 6:00 PM
Sunday
11:00 AM - 5:00 PM
Orvis Pasadena Upcoming Events
Store Personnel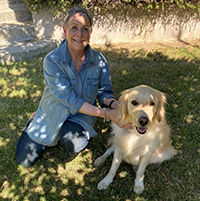 Store Manager: Susan Mandl
A veteran of the retail world, Susan Mandl has been in the business for years and has worked in everything from high-end clothing to high-end patio furniture. But we think she put it best when we asked her what being at Orvis meant to her: "I have the pleasure of being a part of a company that has an enduring passion for protecting the environment, for educating people to our brand, what we love and strive to protect, and to introduce them to a sport they can share with family and friends for years to come." Susan's strength at building relationships with customers and colleagues alike makes her perfectly positioned at the helm of Orvis Pasadena. Dog lover, traveler, and amateur flower arranger in her spare time, Susan loves nothing more than helping new and returning customers alike pursue their passions in the outdoors. 
Store Fishing Manager: Jacob Gorman
Growing up in a family of anglers, I was fortunate to develop a love for this sport at an early age. In 2007 I joined The Orvis Company, not knowing that many years later I would be here as our Fishing Manager and having just as much fun as when I started. Southern California is rich with fishing opportunities, with the Pacific Coast and the Sierra Nevada mountains at our doorstep. In between are many rivers, creeks, and lakes that are all worthy of a fly. Our staff here at Orvis Pasadena brings you a wealth of knowledge and dedication to all aspects of fly fishing. Every week you can find us exploring new territory, fishing familiar runs, or refining techniques to help with your success on the water. Stop by anytime to share your stories, make some new friends, and see what we've been up to lately. See you at the shop!
CAN'T MAKE IT TO A CLASS IN PERSON?
NO PROBLEM.
The Orvis Fly-Fishing Learning Center has hundreds of tutorials, videos, podcasts & articles available on-line, right now!