Huntsville Orvis Retail Store
Monday
11:00 AM - 6:00 PM
Tuesday
11:00 AM - 6:00 PM
Wednesday
11:00 AM - 6:00 PM
Thursday
11:00 AM - 6:00 PM
Friday
10:00 AM - 6:00 PM
Saturday
10:00 AM - 6:00 PM
Sunday
12:00 PM - 6:00 PM
Orvis Huntsville Upcoming Events
Store Personnel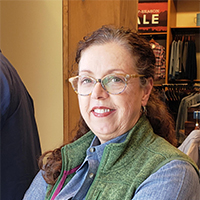 Store Manager: Marie Eslick 
Tenacity. If we were to pick one word to describe Marie Eslick (at least for the purposes of this bio) it's tenacity. You see, back in 2016, just before Marie interviewed at Orvis, she broke several bones in both feet and ankles after falling from a ladder while hanging Christmas lights. She likes to call it her 'Clark Griswold moment.' But even that didn't stop her from flying to Vermont (and even renting a car) while on crutches with both legs still in braces, to make it to her interview. It's her determination that makes Marie the ideal individual to be at the helm of Orvis Huntsville, where on any given day, she's solving problems, generating ideas, and supporting her team of Associates.
A veteran retailer and born traveler (the southwest is her favorite destination), Marie loves meeting new customers, sharing stories, and helping them plan their adventures, and, when she can't get out there herself, living vicariously through their experiences. Marie's dedication and genuine passion for her work ensures she always gets the job done. Incidentally, she probably never should have climbed that ladder in the first place, as she has a self-professed fear of heights. But like we said, when a challenge presents itself, Maries takes it on with tenacity.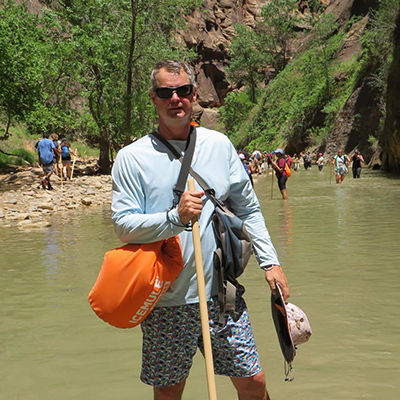 Fishing Manager: Don Bowling 
An avid outdoorsman, there isn't much that Dan doesn't like to do outside. Whether it's fishing for smallies, panfishing with his 2-wt glass rod, hiking, biking, one-wheeling, golfing, kayaking, or paddleboarding, if it's an outside activity, Don's all in. An Alabama native and all-state quarterback in high school, Don attended the University of Southern Mississippi on a football scholarship but was moved to tight end because, as Don tells us, "Some guy named Brett Favre ended up being the QB." Traveling is also high up on Don's list of loves; in 2021 he and his family went on the vacation of a lifetime, visiting eight national parks in two weeks, starting in Las Vegas and finishing Glacier National Park. A road trip of road trips for sure. At Orvis Huntsville, Don approaches fly fishing in much the same way he approaches his other outdoor passions. So, if you're looking for the best gear for your next fly-fishing trip or need guidance on what's hatching when and biting where in the Huntsville area, be sure to seek out Don. He'll make sure your next angling adventure will be your best one yet.
CAN'T MAKE IT TO A CLASS IN PERSON?
NO PROBLEM.
The Orvis Fly-Fishing Learning Center has hundreds of tutorials, videos, podcasts & articles available on-line, right now!